Les is, amongst many other activities, our project manager and "man in the know" on all  matters related to our project. Herein his winter newsletter
Winter 2012
Flood Update
The river is just getting back to normal following floods which were not quite as bad as the year 2000 but a bit worse than the last one in 2008. For those of you who have visited the barge you may have noticed the tall girders above the wharf and the decks were above the tops of these!
Christmas Tree Festival (8-14 December)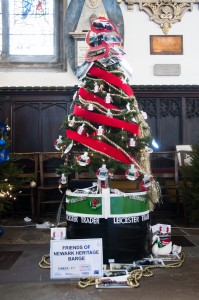 We have again supported the Newark Parish Church Christmas Tree Festival. All local groups are invited to display a tree and the Church then benefits by opening this to the public from the 8th to the 14th December. From previous years experience we decided to find a way to raise our tree off the ground and hit upon the idea of making a frontage to look like a barge. We are lucky to have new member Peter Smith who we know as a lock keeper and he made the mistake of mentioning one day that he enjoys making models. He has made a spectacular bow section model of Leicester Trader which the tree will stand on. Details of opening times are on this link and if you can get you will not be disappointed. http://www.experiencenottinghamshire.com/whats-on/st-mary-magdalene-parish-church-newarkchristmas-tree-festival-20 12-p4 79391
Christmas Market in Buttermarket, Newark
Also on the 8th we had a stall in the Buttermarket at the Town Hall, talking to people and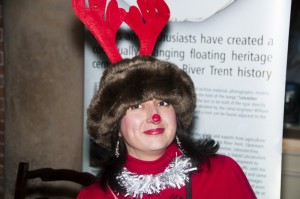 handing out leaflets, selling Newark's Lost Waterfront prints and Marian was there doing on-site massage to help raise funds for the Barge. Our chairman Hes stole the show in her Christmas outfit and her "name the lion" competition.
Open Days
Since the last newsletter we held open days to coincide with English Heritage Open Days and our own final one on the 15th September. Whilst we did not have great numbers we had some very interested visitors. Our Open Day schedule starts in Spring 2013, however, if you wish to visit the barge over winter, contact Les.
Vacancy on Committee
The AGM concluded the formal business of the Friends group but highlighted the need for more help on the committee with the standing down of Julie our secretary from the start, who has now greater work and home commitments. If you are able to support us, please contact Les.
School Visits
With the schools resource pack completed we have had four successful visits from
• Bowbridge school,
• Newark Holy Trinity school
• Farndon 8t Peters school, and
• the Newark & District Young Archaeologists.
These were delivered by member and children's drama teacher Carolyn Drury, her daughter Flick, and members Margi Catley, Chris Reynolds and Les. The children all enjoyed dressing up in Victorian costumes and play acting life on board a barge for boatmen's children. Knot tying, use of pulley blocks. How a lock works was demonstrated using our new portable working model-all in a small suitcase and compete with boats and water. They were also shown where the cabin space was, how we hope to rebuild the port side with children's bed holes as they were in keels. Some deep discussions took place regarding the riveted construction and how ships were built before welding was the norm.
Spreading the Word….
• Les Reid's talks to outside groups continue to be popular and recent ones included the Trent Valley Agricultural Preservation society at Collingham and the Nottingham Centre of National Trust. There are already 6 talks arranged for 2013.
• The money raised is always useful and always the hope of scooping a new member or volunteer. Les also had a brief interview on Radio Nottingham. Les and Marian took a display and demonstrated the lock model at the final Trent Vale workshop at the Beckingham Willow Works.
• Leicester based film archivist Rob Foxon who normally shows railway films has added to his collection some waterway films with river Trent themes. These were recently shown at the Newark Palace Theatre where I was pleased to see a number of our members on the stall we had and other visitors who are arranging to come to Leicester Trader with their own photos. In order to find out more of the history behind the films we were able to get funding for a private viewing on board Leicester Trader and invited our senior members to discuss the films and record their memories.
Christmas Gifts
Another reminder for those of you looking for a Christmas gift idea we still have Newark Lost Waterfront prints on sale. Sales have been a bit slow and we have lost our main outlet with the closure of the Millgate Museum at Newark. We have been greatly helped by new members Andy and Jenni Oliver who are selling prints from their studio and another new member Duncan Nelson who has allowed us to use part of his display area at the St Marks gallery. Members discounted price is £50 for the framed print and £19.50 for just the print which comes in a tube and can be posted. Contact Les if you are interested.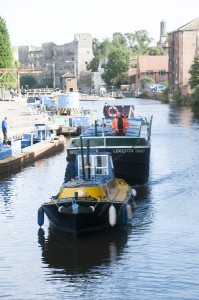 The dry docking of Leicester Trader went very smoothly and we thank member James Wilkinson of Newark marina for the use yet again of his restored tug Friar Tuck. The hull was jet washed ,inspected and painted, some repair work done and other things noted for next time. Thanks go to members Chris Chapman and Richard Bingham for helping Les to crew tug and barge.
Our funds have been helped recently with the donation of £2,000 from the winding up of the Sir Stuart Goodwin Trust. They could see that much of what we do by connecting with our senior members and audience is in line with the Trusts aspirations.
Contact Us
Contact Les (Project Leader) on either 07971 589612 or les.nhbarge@googlemail.com or
membership queries to secretary.nhbarge@gmail.com
Our Website- www.newarkheritagebarge.com