From our Chair, Hester Kapur, an invitation
Dear All,
I'm writing to invite you to the next Trade and Transport workshop which will take place on Saturday 15th February from 12.30pm starting with a lovely lunch made by Margi.
Hywel will lead the workshop with a presentation reflecting his further research at the Waterways Archive at Ellesmere Port, including more about the second of the two British Waterways Newark depot stores books; the papers of the Bowes Committee on the future of the waterways, which reported in the 1960s; advertising the trade promotion by the Trent Navigation Company in the first half of the 20th century; and the TNC's newspaper clippings albums from the pre-Nationalisation period.
The dates of the next workshops are:
Saturday 8th March – 12.30pm – 4pm  A workshop specifically for Primary School teachers and workshop leaders who would like to find out about our education materials.  This workshop will be led by Maggie Morland – Education Consultant (flyer attached)
Saturday 5th March 12.30pm – 4pm Details to follow
Saturday 26th April – All day workshop celebrating the findings of the research to be held at North Muskham village hall
Looking forward to seeing you on the 15th February.
Kind regards
Hes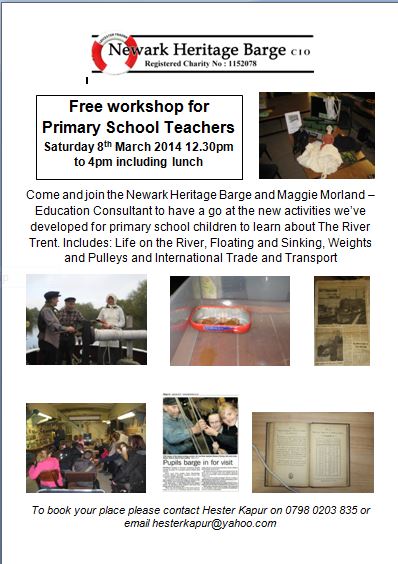 Please let me know if you can make it for lunch.