Newsletter Spring 2013.
At last a bit of sunshine to cheer us up and look forward to another season – apologies for the lateness of this but everything has come late this spring!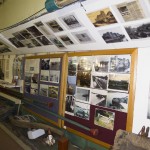 The prolonged frost and snow is always a problem on the barge due to condensation and a lot of work has been done over the last three months to counteract this.   Using recycled wood, panels and insulation almost all the areas under the decks have been boarded over and it does feel warmer down below.   This work will protect the photo displays and give more space to use.   It has been a full time job keeping the wood burner going to raise temperatures above freezing and log supplies have kept coming thanks to member Richard Bingham, chainsaw and van.
The second half of January brought another problem with snow melt and heavy rain causing the river to flood up to the towpath so that wellingtons and ladders were needed to get on board.
As mentioned in the last newsletter our Christmas tree in the Parish Church was enhanced by the bow model of Leicester Trader and admired by all – a real eye catcher and pictured in the local press.   The model was made by member Peter Smith who has since completed a further section with the fore hold, lifting hatches, for roller and mast.   With this we can demonstrate cargo handling.
Obituaries:
It is with sadness I have to report that two good friends from the river have passed away.
Just before Christmas Ron Warhurst died and I have lost yet another great font of river knowledge.
He began in his youth on barges like Leicester Trader but moved ashore to take Newark Town lock in the mid 1950's until retiring in 1986.   If he ever tired of my endless questions in my schooldays he never showed it.    I built two model barges, motor and towed , which we would sail in the lock.   His funeral was well attended by family and former colleagues followed by many yarns in his favorite watering hole.
Once we sort out all his photos we intend to have a Ron themed open day.
In January, another friend of many years, barge Fusedale's skipper Geoff  Wheat died unexpectedly.   He had been recovering from prolonged cancer treatment and was expecting a good recovery.   Unfortunately this was not to be.   It must be remembered that without realizing it  at the time, Geoff was responsible for starting the project.   He called me saying he was short of a mate and could I do a few gravel trips on Fusedale,  Collingham to Whitwood.    Passing through  Knottingley he asked if I could identify a barge laid rusting at the old shipyard.   It could have been one of three but it turned out to be Leicester Trader.   Once I found out its significance it had to be the project barge.   When we bought LT , Geoff towed us first to Goole and then when the tides were right, up to Cromwell on our way up to Newark.
Our new website
Most of you will have seen our improved website which is the result of much hard work by committee member Duncan Nelson. Thanks also to member Ric Millen who kept it going when Peter Birley retired and moved away.
Monthly open days
Our monthly open days have started and the next one is Sunday 5th May, 1200-1600. Please come and see us if you haven't been for a while.
Future dates are  2nd June, 7th July, and 4th August, all Sundays , same times.
Saturday 14th and Sunday 15th September are our final open days to coincide with Heritage open days.
Newark Festival  weekend
We are hoping to attend Newark Festival weekend Friday 14th , Saturday 15th and Sunday 16th June
We have invited our local MP Patrick Mercer to visit Leicester Trader on the Friday afternoon.   As Leicester Trader is 60 years old this year we are using this date to celebrate its official birthday.
The Transport & Trade on the Trent workshop on the 18th May is proving very popular so contact Philip Riden if you wish to attend. Please see our blog page for more information or click here to be re-directed.
Many thanks to members who have renewed their subscriptions already –  we rely on your support to keep the project moving forward.   A warm welcome to new members recently joined – membership numbers count a lot when applying for funding as it shows support for the project.
From Les on behalf of the Committee