Our most exciting news is that we have been successful in our application to register as a Charitable Incorporated Organisation and we look forward to the future this holds for us. More on this as we progress…….
More news is our Diamond Jubilee (50th birthday celebrations) coinciding with the Newark Festival this year click here to find out more.
On other matters the Day School Transport and Trade on the Trent 1850-1970 held at the Newark Academy on the 18th May 2013 was a memorable and very worthwhile event – a full report and photo galleries to follow.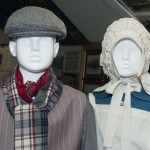 Mannekin of Fulbeck, Lincolnshire have kindly lent The Friends of Newark Heritage Barge two models to display the recently created barge worker clothes by volunteers Dorothy Britten and Margi Catley.  The reproduction clothes have been hand sewn for education workshops for primary school visitors to the barge.  For more information about Mannakin please visit their website http://www.mannakin.co.uk/ or call them on 01400 272219. Look out for our 'Name the Mannequins competition' which we'll be running over the Newark Festival weekend 14th – 16th June.