Our apologies for the lateness in the publication as we are short of a newsletter editor, and Secretary, we would welcome any assistance from members old and new.
Activities to date include:
Sconce and Devon Park 100 year celebration amidst glorious weather a lot of interest in our project was generated. We were visited by Newark and Sherwood District Councillor Dennis Jones.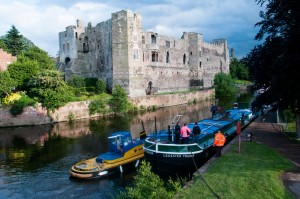 Newark Festival in mid-June where we berthed in full view next to Newark Town Bridge was a dual event being the Leicester Trader's 60th anniversary and the Festival. Visitors included Notts County Councillor Tony Roberts  who gave a  cheque for £500.00 towards our restoration project, also Newark Town Mayor Bryan Richardson. Our badge maker was christened as a Father's Day attraction, we participated in the Newark Carnival procession around Newark with our model of Leicester Trader made by member Peter Smith, and sold out on our tombola! The interest shown by the public with visits over the Festival were encouraging to say the least. We estimate we had in excess of 300 visitors.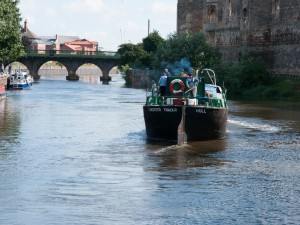 On our Open Day 4th August at Newark Wharf we towed LT to Newark Town Wharf. Although the day was quiet  it  was  a berth we have not tried before, and we welcomed the opportunity to test the site for future use. Many thanks to Frank Dyson of Castle Barge Pub for his help and support on the day.
Recent visitors  have included Lincoln Mazda 5 Sports Car Club , Collingham Local History Society, Nottinghamshire Country Link, and Nottingham branch Inland Waterways Association.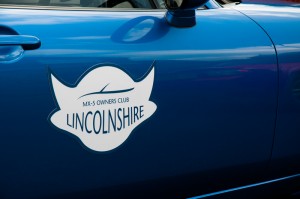 Our future activities include:
Trade & Transport workshop Day (part 3) Sat 7th September to be held  on board from 12:30 to 4 pm. Barge will be open from mid-morning.  Best to contact to Les in advance as soon as possible in order we can ascertain our catering needs.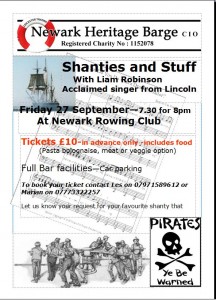 27th September Sea Shanty Evening. Please see pamphlet attached, our major fund raising event –please support!
Les's talks continue to be of interest with 1 scheduled in September and 4 in  October. The monies generated from these talks contribute significantly to our operating costs and any members wishing to attend are very welcome.
The Converted community Barge Sobriety operating from the Yorkshire Waterways Museum at Goole called alongside Leicester Trader on en route to Nottingham.
Member Frank Major came to stay on his narrow boat Pride of Holderness and during his visit by painting coamings, weatherboard and decks.
Open days will be the 14th and 15th September to coincide with Heritage Open Days. On the 15th we anticipate a reunion with a group of retired boatmen from Hull who Les has known from his school days!